Limo rental Baton Rouge, LA.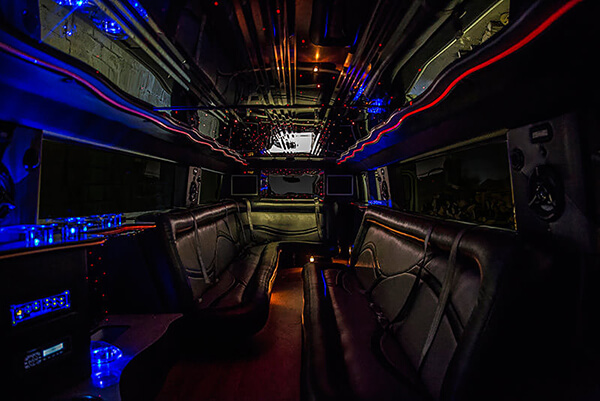 For excellent limousine service, choose us!
If you are searching for a premium limo service in Baton Rouge for a special occasion, you have come to the right site, as we will get you the perfect limousine that will match your exact needs. Our considerable experience in limo rentals guarantees that from the moment you are in one of our stretch limousines, you will feel like the star that you are because the first-level transportation service that we provide has proven always to satisfy our client's expectations. According to your plans and the number of guests, you can choose between our wide selection of options that include a limousine rental or a party bus rental, as our diverse fleet of luxury vehicles is composed of the newest models of stretch limos and limo buses of the market due to the priority of creating a long term alliance with the people that trusted us by giving the best Baton Rouge transportation services. You can count on our limousine rentals for special occasions such as weddings, birthday parties, bachelor or bachelorette parties, prom nights, homecoming parties, corporate events, airport transportation, or just a night out with friends that you want to make something out of this world. With the lovely treat of our courteous chauffeurs and the super clean amenities inside every limo, you will be delighted by their exceptional charm while you smoothly go to any special events or just around town, calling everyone's attention while you pass through as the VIP you are. Distinct limousine service to make a memorable evening with your loved ones is just a phone call away, so contact us if you require more specific information about our luxury transportation services and prices, as they vary depending on the season, the number of passengers and hours you are renting them, our reservation specialist team will give you all the information and important advice you may need.
Have a great time in Baton Rouge, LA.
Located near New Orleans, Baton Rouge has gained fame due to the hospitality of its people, the extensive restaurant options of refined cuisine, and its engaging cultural activities and traditions inherited from past generations, like the Mardi Grass parade in the beautiful Spanish Town. When you go out, you will notice that there is always something going on in Baton Rouge, Louisiana, from live music venues to opening new bars and clubs to party. You can decide a better way to spend the night on the town at the end of the main event or even take a trip to New Orleans, as it is just 1 hour away. Thanks to our limo rental service in Baton Rouge, the fun can go beyond your special event, as you can carry the party to your favorite place in town. The bars and clubs are spread around Baton Rouge because the city doesn't have a particular area to party with friends. Still, you don't have to worry because you can do bar hopping to any place on a limousine rental or a party bus just by telling your chauffeur to carry you there. You won't need to have a designated driver if you plan to go on a wine tour or bar crawling in the Baston Rouge area, so every one of your friends can have a blast without any concerns. Be that you want a night out with friends, a calm evening with your partner, a nice ride to spend some time shopping in New Orleans, or even to be picked up by a superb vehicle when you arrive at the Baton Rouge metropolitan airport, the luxury transportation services that we offer will fill all your expectations, so rest assured in our hands and you will have a good time.
Make a special occasion thanks to our limo service!
As you want to go big for that special event you are planning, you can rely on our deluxe limo services to make a glorious entrance that will remain in your most precious memories forever. Be sure you will find what you are looking for in our large fleet of luxury ground transportation vehicles, including stretch limousines, party buses, mini buses, and limo buses. Our Baton Rouge limousine service will align with your ground transportation needs so that we can provide you with the right vehicle and a great driver ready to serve you. For a more exclusive ride with your closest friends is the Baton Rouge limousine, among which there are several stretch limousines like the Hummer limo or the Cadillac Escalade limousine. On the other side, if you want something more spacious for a group of over 14 guests, you can take a party bus ride to carry the fun beyond the main event. The larger vehicle for party bus rentals can easily host up to 40 passengers so that everyone can be invited to the after-party. Trust our reliable service to arrive on a beautiful stretch limo at any special event, such as a wedding, a birthday party, a homecoming party, a bachelor or bachelorette party, a prom night, a corporate event or a convention, and even for airport transfers as it is a way better to be welcomed in Baton Rouge than a car service or the standard shuttle buses. Now that you have the opportunity of choosing one of the top limousine companies for a Baton Rouge limo rental, you will not be disappointed due not only because we have the best limos in town and our ground transportation services are one of the finest but mainly because our competitive prices will leave you speechless. Contact us for a free quote, and our customer team is available 24/7 to answer any questions and recommend which stretch limousine is the perfect vehicle for you according to how many passengers there will be, the number of hours, drop-offs, and pick-up points.
As your special day approaches, reserve with anticipation our luxury transportation services for a limo or a party bus rental!